TRIVANDRUM SWADESHI FESTIVAL
The Gandhi Centre in collaboration with the Kerala Gandhi Smaraka Nidhi organised  Nine Days Swadeshi Festival at Trivandrum from 13 to 21 August 2011. The Festival consists of Home Made Products Training,Home Made Products Exhibition and Seminars on various aspectsof Swadeshi.

The Transport Minister  V.S.Sivakumar inaugurated the Swadeshi Festival on 13 August and the Working Chairman of the Kerala Gandhi Smaraka Nidhi Dr.N.Radhakrishnan presided over the function.

Four Seminars were also organised along with the Swadeshi Festival and the former Governor and former Union Minister of  State M.M.Jacob inaugurated the Seminar Series.The State Planning Commission Member C.P.John inaugurated the Jackfruit Seminar and Fr.Wilson Thattaruthundil, the former Director of the Malankara Social  Service Society inaugurated the Seminar on Swadeshi and Self Reliance. The Trivandrum District Panchayath President Ramani P.Nair  delivered the Valedictory address.

As part of the Festival,four training programmes were conducted
1)Jewel Making  from 13 to 15 August
2)Soap Making from 16 to 18 August
3)Consumer Products Making  on 19 and 20 August
and 4) Transparent Soap Making on 21 August 2011.

In addition, a wide range of Home Made Products exhibition was also arranged along with the Festival in order to give  a first hand information to the people.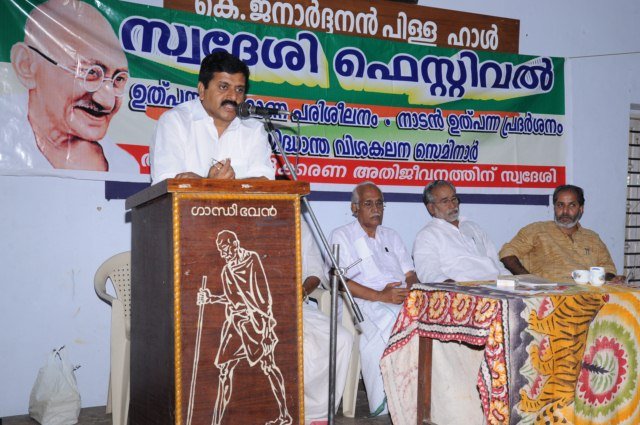 The Transport Minister  V.S.Sivakumar inaugurated the Swadeshi Festival on 13 August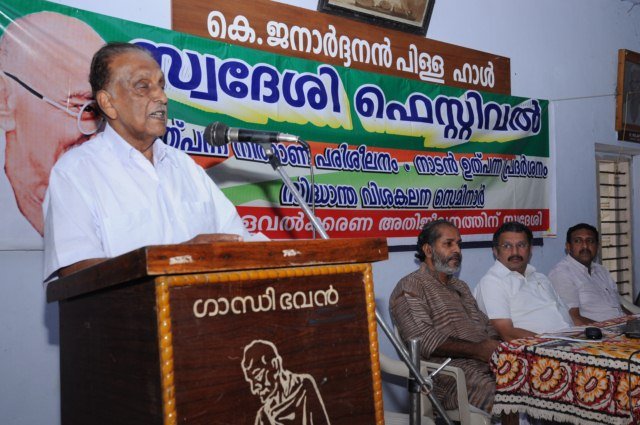 The former Governor and former Union Minister of  State M.M.Jacob inaugurating the Seminar Series